I read and loved Stalking Jack the Ripper (see my review) last year, so I was obviously eager to get my hands on this sequel. Today I've decided to share with you some of my favorite quotes from Hunting Prince Dracula! Don't worry, they will not include any spoilers! It was really hard to narrow it down to just a few, but these were my absolute favorites.
Please note: The quotes below were pulled from the advance reader copy of Hunting Prince Dracula, and not from the final published edition. As such, page numbers were not included and the actual wordings might vary.
---
My Favorite Quotes from Hunting Prince Dracula
"Science could not explain the power of love or hope."
"The world is vicious."
Thomas brushed a lock of hair back from my face, his gaze thoughtful. "The world is neither kind nor is it cruel. It simply exists. We have the ability to view it however we choose."
"Winding our way through the narrow path, we finally pulled to a blessed stop outside the castle. Fingers of moonlight reached over the spires and slid down the roof, casting our shadows in sinister shapes. This castle was eerie and I haven't even stepped inside."
"Curiosity was a disease that plagued me and I'd yet to find a cure."
"I have a feeling you haven't invited me here for kissing. Though it never hurts to ask. You're dressed for sneaking about Dracula's castle. Be still my thawing, dark heart. You certainly know how to make a young man feel alive, Wadsworth."
"For there are no limits to the stars, their numbers infinite. Which is precisely why I measure my love for you by the stars. An amount too boundless to count."
---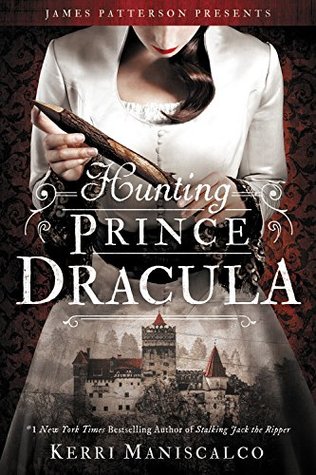 Hunting Prince Dracula by Kerri Maniscalco
Series: Stalking Jack the Ripper #2
Published by Jimmy Patterson on September 19, 2017
Genres: Historical Fiction, Mystery,
Pages: 448
Amazon • Barnes & Noble • iBooks • Book Depository • Kobo
Add to Goodreads
Following the grief and horror of her discovery of Jack the Ripper's true identity, Audrey Rose Wadsworth has no choice but to flee London and its memories. Together with the arrogant yet charming Thomas Cresswell, she journeys to the dark heart of Romania, home to one of Europe's best schools of forensic medicine…and to another notorious killer, Vlad the Impaler, whose thirst for blood became legend.

But her life's dream is soon tainted by blood-soaked discoveries in the halls of the school's forbidding castle, and Audrey Rose is compelled to investigate the strangely familiar murders. What she finds brings all her terrifying fears to life once again.
---
About Kerri Maniscalco
Kerri Maniscalco grew up in a semi-haunted house outside NYC where her fascination with gothic settings began. In her spare time she reads everything she can get her hands on, cooks all kinds of food with her family and friends, and drinks entirely too much tea while discussing life's finer points with her cats.

Her first novel in this series, Stalking Jack the Ripper, debuted at #1 on the New York Times bestseller list. It incorporates her love of forensic science and unsolved history.