Welcome to my stop along the official A Wrinkle In Time blog tour, hosted by Macmillan Children's, in honor of the upcoming theater release of the A Wrinkle In Time movie (March 9, 2018!
---
I read A Wrinkle In Time just a few years ago as an adult in library school, so I don't have the nostalgia surrounding the story like so many readers have. I did really enjoy it, though, and can totally see why it has become such a beloved classic. I'm excited to see the movie!
Today I'm going to share with you some of my favorite quotes from the book, which is going to be a bit of a daunting task because A Wrinkle In Time is SO quotable.
My 13 Favorite Quotes from A Winkle In Time
"It was a dark and stormy night."
"Just relax and don't worry over things that needn't trouble you."
"Nothing is hopeless; we must hope for everything."
– Mrs. Who, quoting Euripides
"People are more than just the way they look."
"'We do not know what things look like, as you say,' the beast said. 'We know what things are like. It must be a very limiting thing, this seeing.'"
"Maybe if you aren't unhappy sometimes you don't know how to be happy."
"I don't understand it any more than you do, but one thing I've learned is that you don't have to understand things for them to be."
"We look not at the things which are what you would call seen, but at the things which are not seen. For the things which are seen are temporal. But the things which are not seen are eternal."
"But of course we can't take any credit for our talents. It's how we use them that counts."
"To love is to be vulnerable; and it is only in vulnerability and risk—not safety and security—that we overcome darkness."
"We have to make decisions, and we can't make them if they're based on fear."
"The more a man knows, the less he talks."
"The most memorable books from our childhoods are those that make us feel less alone, convince us that our own foibles and quirks are both as individual as a finger-print and as universal as an open hand."
---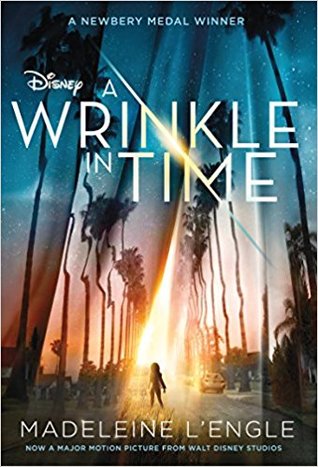 A Wrinkle In Time by Madeleine L'Engle
Series: Time Quintet #1
Published by Farrar, Straus, and Giroux on November 7th 2017 (first published in 1962)
Genres: Fantasy, Young Adult, Time Travel
Add to Goodreads
Buy from Amazon
It was a dark and stormy night; Meg Murry, her small brother Charles Wallace, and her mother had come down to the kitchen for a midnight snack when they were upset by the arrival of a most disturbing stranger.

"Wild nights are my glory," the unearthly stranger told them. "I just got caught in a downdraft and blown off course. Let me be on my way. Speaking of way, by the way, there is such a thing as a tesseract".

Meg's father had been experimenting with this fifth dimension of time travel when he mysteriously disappeared. Now the time has come for Meg, her friend Calvin, and Charles Wallace to rescue him. But can they outwit the forces of evil they will encounter on their heart-stopping journey through space?
Visit the other tour stops!
February 21st | YA Bibliophile
February 22nd | Adventures of a Book Junkee
February 23rd | Falling For YA
February 23rd | Fiktshun
February 26th | Addicted 2 Novels
February 27th | Swoony Boys Podcast
February 28th | Book Nerds Across America
February 28th | YAWednesdays
March 1st | Fiction Fare
March 2nd | Bookish Lifestyle
March 3rd | Forever Young Adult
March 5th | That Artsy Reader Girl
March5th | Hello, Chelly
March 6th | Book Briefs
March 7th | Ex Libris
March 8th | Reading Teen