Magic, Myth, & Mischief, hosted by me and Bonnie, is a month-long event that celebrates fairy tales and mythological retellings, as well as retellings of favorite classic novels and books featuring mythical beasts such as mermaids, dragons, and fae! Find the schedule of events and other information here.
Today I'm welcoming Kaitlin Bevis, author of the Daughters of Zeus series, to the blog to participate in our fun interview series! I reviewed the first book in this series last week!
---
Interview with Kaitlin Bevis
What makes your book magical, mythical, or mischievous?
My books feature the Greek Gods living in the modern day.
What elements of the Greek myth of Persephone did you use when incorporating the tale into your own novel?
Every single element I could find. Mythically speaking, Persephone is only involved in a handful of myths, so I was really able to include a lot of fantastic detail. Aphrodite on the other hand, was involved in so many myths, that I really had to pick and choose.
That's not to say I didn't make changes. For example, in my version, Hades is a good guy who offers Persephone shelter in the Underworld. His typical role is played by Boreas, yet another serial rapist in Greek Mythology.
Which mythical character do you see yourself in the most, or do you relate to most and why?

Melissa. Melissa is a nymph and one of Persephone's priestesses and her best friend. But despite being a nymph, she's exceedingly average. I've always figured if I was in a book, I'd probably end up being a thoroughly un-magical background character.
If you could cross any two fairy tales or myths together, which would you choose?
I like to think of my books as Once Upon a Time reimagined for Greek mythology. Events from the stories we all know happened in the past, but not in the way people think, and some events from the stories we all know are still unfolding. The stories cross over in unusual ways. Half the fun is putting together the timeline and seeing the way all the mythical figures fit together.
Who are your favorite villains of lore?
Hades. My version of him anyway :) Otherwise, I'm a big fan of Maleficent.
Who do you feel are the most romantic couples from fairy tales and/or mythology?
Ares and Aphrodite and Persephone and Hades.
What are some of your favorite novels influenced by fairy tales/mythology? (Besides, of course, your own!)
I love the Cinder series. Oh, and Ella Enchanted is one of my all time favorite childhood books. It's also one of the few I appreciated more as an adult.
If you could be any mythical creature, which one would you be and why?
A goddess. An immortal, super beautiful, powerful goddess. But preferably one without any of the incest issues.
If you could live in any fairytale or mythical world, which one would you choose to live in and why?
I'm actually very happy in our world. But when I was little, I wanted nothing more than to be a Sailor Scout.
What lesson do you want your readers to learn from your retelling?
Romance is nice. Really nice. But friendships are incredibly important.
What magical power do you wish you had?
I'd take any of them :) Particularly immortal life and youth. But short of epic powers, I'd like to always have exact change (in the appropriate currency) for any purchase I want to make.
---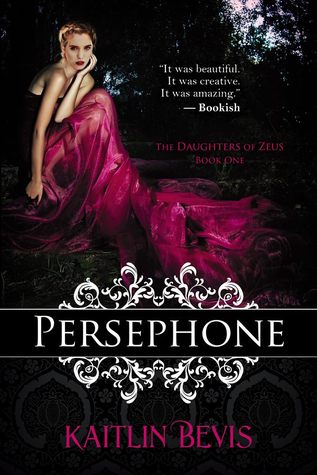 Persephone by Kaitlin Bevis
Series: Daughters of Zeus #1
Published by Musa Publishing on July 6, 2012
Genres: Fantasy, Mythology, Retelling
Add to Goodreads
One day Persephone is an ordinary high school junior working at her mom's flower shop in Athens, Georgia. The next she's fighting off Boreas, the brutal god of Winter, and learning that she's a bonafide goddess—a rare daughter of the now-dead Zeus. Her goddess mom whisks her off to the Underworld to hide until Spring.

There she finds herself under the protection of handsome Hades, the god of the dead, and she's automatically married to him. It's the only way he can keep her safe. Older, wiser, and far more powerful than she, Hades isn't interested in becoming her lover, at least not anytime soon. But every time he rescues her from another of Zeus's schemes, they fall in love a little more. Will Hades ever admit his feelings for her?

Can she escape the grasp of her powerful dad's minions? The Underworld is a very cool place, but is it worth giving up her life in the realm of the living? Her goddess powers are developing some serious, kick-butt potential. She's going to fight back.
---
About Kaitlin Bevis
I spent my childhood curled up with a book, and a pen. If the ending didn't agree with me, I rewrote it. Now, I write my own endings, middles, and beginnings for the Daughters of Zeus series, including the best selling novel, Persephone.

I've always wanted to be a writer, and I spent high school and college learning everything I could so that one day I could achieve that goal. I graduated college with my BFA and Masters in English with a EDs in School Library Media.

For up to the minute information on my future releases subscribe to my facebook or twitterpage!